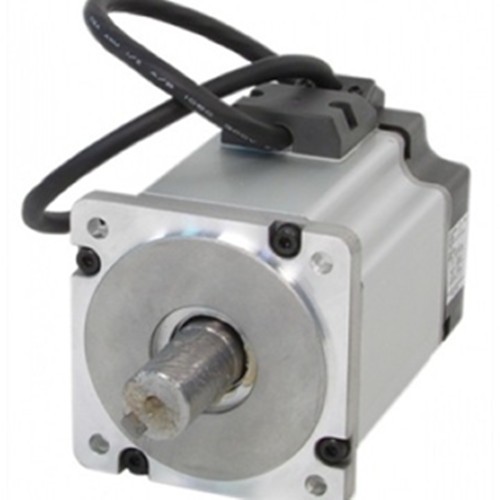 Panasonic 750W AC SERVO MOTOR MSMD082P1S 2500PR INCREMENTAL ENCODER MINAS A4 series motor
Panasonic 750W AC SERVO MOTOR MSMD082P1S 2500PR INCREMENTAL ENCODER MINAS A4 series motor
---
Panasonic AC Servo Motors (MSMD A4 Series)
MSMD-MINAS A4 Series (100-200V)
Panasonic's MINAS A4 series corresponds to even variation of load inertia. Offers real automatic gain tuning to low and high stiffness machines with a combination of an adaptive filter. Supports the vertical axis application where the load torque is different in rotational direction. Prevents the machine from over-traveling during automatic gain tuning with over-travel detecting function. Enables you to set and check while monitoring real-time automatic gain tuning conditions on the front panel.
---
Panasonic Servo Motor MSMD082P1S
Item



Specifications


Part Number




MSMD082P1S




Details




Low inertia, Lead wire type, IP65




Family Name




MINAS A4 Family




Series




MSMD Series




Type




Low inertia




Enclosure



I

P65

Motor encoder connector




Lead wire




Voltage specifications




200 V




Rated output




750 W




Holding brake




without




Oil seal




without




Shaft




Key-way, Shaft end, Center tap



Rated torque

(N ⋅ m)




2.4



Momentary Max. peak torque

(N ⋅ m)

7.1




Max. current (A (o-p))




17.0




Rated rotational speed (r/min)




3000




Rated rotational Max. speed (r/min)




4500




Rotary encoder specifications




2500 P/r Incremental system



Features


10 W to 7.5 kW, Input power supply for Driver: Voltage DC 24 V/48 V・AC 100 V/200 V/400 V, 20 bit incremental・17 bit Absolute/Incremental encoder, Frequency response 2.3 kHz

Related Servo Motor
MSMD011P1, MSMD011S1, MSMD012P1, MSMD012S1, MSMD021P1, MSMD021S1, MSMD022P1, MSMD022S1, MSMD041P1, MSMD041S1, MSMD042P1, MSMD042S1, MSMD082P1, MSMD082S1, MSMD5AZP1, MSMD5AZS1

---
1.About Regenerative brake frequency
The frequency of the motor's stops from the rated speed with deceleration without load.
If the load is connected, frequency will be defines as 1/(m+1), where m=load moment of inertia/rotor moment of inertia.
When the motor speed exceeds the rated speed, regenerative brake frequency is in inverse proportion to thesquare of (running speed/rated speed).
Power supply voltage is AC115 V(at 100 V of the main voltage),AC230 V(at 200 V of the main voltage).
If the supply voltage fluctuates, frequency is in inverse proportion to the square of (Running supply voltage)relative to the value in the table.
When regeneration occurs continuously such cases as running speed frequently changes or vertical feeding, consult us ora dealer.

2. About unlimited regenerative brake frequency
If the effective torque is within the rated torque, there is no limit in generative brake.

3. About recommended moment of inertia ratio of the load and the rotor
Consult us or a dealer if the load moment of inertia exceeds the specified value.
---
A Series Servo Drive
| | |
| --- | --- |
| Servo Drive | Description |
| MADDT1205 | A Series Servo Drive AC 200-240VAC Supply 10 AMP 240 V Load |
| MADDT1205003 | A Series Servo Drive AC 200-240VAC Supply 10 AMP 240 V Load |
| MADDT1207 | A Series Servo Drive AC 200-240VAC Supply 10 AMP 240 V Load |
| MADDT1207003 | Servo Drive 10 AMP 240V LOAD Lead Free Status RoHS Compliant (MSL) |
| MADKT1505CA1 | AC Servo Driver Kit 200V 100W 3000rpm 0.32nm Brake, 3m Cable |
| MADKT1505E | Servo Drive 10 AMP 240V LOAD Lead Free RoHS Compliant (MSL) |
| MADKT1507CA1 | Servo Driver Ultra-High Response Frequency Command Input & Pulse Output |
| MADKT1507E | Servo Drive 10 AMP 240V LOAD Lead Free RoHS Compliant (MSL) |
| MBDDT2210 | Servo Drive 15 AMP 240V LOAD Lead Free Status RoHS Compliant (MSL) |
| MBDDT2210003 | Servo Drive 15 AMP 240V LOAD Lead Free Status RoHS Compliant (MSL) |
| MBDKT2510CA1 | Servo Driver MINAS A5II 400W 1.3nm 3000rpm 200V 20-bit |
| MBDKT2510E | A Series AC Servo Driver MINAS A5 |
| MCDDT3520 | Servo Driver 30A 240V LOAD Lead Free Status RoHS Compliant (MSL) |
| MCDDT3520003 | Servo Drive 30 AMP 240V LOAD Lead Free Status RoHS Compliant (MSL) |
| MCDKT3520CA1 | Servo Drive AC 200~240VAC Supply 30 AMP 240V Load |
| MCDKT3520E | Servo Drive 30 AMP 240V LOAD Lead Free Status RoHS Compliant (MSL) |
| MDDA013A1A | A Series Servo Drive 100W 0.1KW Medium Inertia |
| MDDA023A1A | A Series Servo Drive 200W 0.2KW |
| MDDA043A1A | A Series Servo Drive 400W 0.4KW |
| MDDA053A1A | A Series Servo Drive 500W 0.5KW |
| MDDA083A1A | A Series Servo Driver 750W 200-240V |
| MDDA103A1A | A Series Servo Driver 1KW |
| MDDA153A1A | A Series Servo Driver 1.5KW 200V |
| MDDA203A1A | Servo Driver 2KW 200-230V Input 106V Output 3-Phase |
| MDDA253A1A | A Series Servo Driver 2.5KW 200V |
| MDDA303A1A | A Series Servo Driver 3KW 200V |
| MDDA353A1A | A Series Servo Driver 3.5KW 200V |
| MDDA3A3A1A | A Series Servo Driver 30W 0.05KW |
| MDDA403A1A | A Series Servo Driver 4KW 200V |
| MDDA453A1A | A Series Servo Driver 4.5KW 200V |
| MDDA503A1A | A Series Servo Driver 5KW 200V |
| MDDA5A3A1A | A Series Servo Driver 50W 0.05KW |
---
Our advantage products:

AB: Input / Output Module / Touch Screen
ABB: Inverter/ I/O Module
GE: IC200/ 693 / 694 etc. series
SIEMENS: 6ES7 / 6EP / 6AV / 6SE etc.
EBMPAPST / Zhiel Abegg : Centrifugal Cooling fan (Use for ABB/SIEMENS inverters)
Mitsubishi / FANUC / Yaskawa / Panasonic / Oriental Motor: Servo Motor & Servo Drive
---