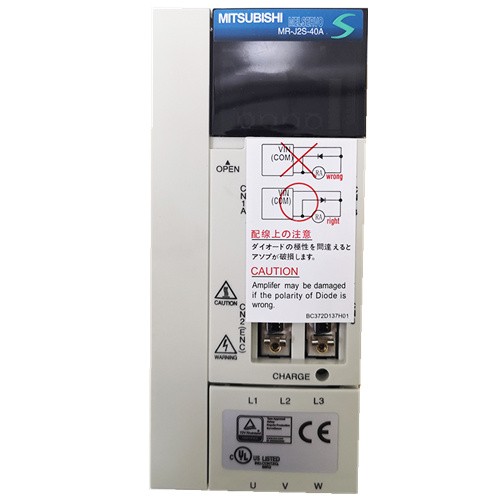 New Mitsubishi AC Servo Amplifier MR-J2S-40A
New original Mitsubishi AC Servo Amplifier MR-J2S-40A Industrial servo motor driver
Product Description:
Product Name: AC Servo Drive, Amplifier
Model:MR-J2S-40A
Condition:New
Package: Original box.
Specification:
Power:
400W
Input:




2.6A 3PH+1PH 50Hz

3PH 200-230V 60Hz

3.9A 1PH 230V 50/60Hz




Output:
170V 0-360Hz 2.8A


Related products:

MR-J2S-10A; MR-J2S-10B
MR-J2S-20A;MR-J2S-20B
MR-J2S-40A;MR-J2S-40B
MR-J2S-70A;MR-J2S-70B
MR-J2S-100A;MR-J2S-100B
MR-J2S-200A;MR-J2S-200B
And others with the suffix.

Introduction of Mitsubishi MR-J2 series amplifier:
The Mitsubishi MELSERVO-J2-Super series general-purpose AC servo is based on the MELSERVO-J2 series and has further higher performance and higher functions.
It is connected with a servo system controller or similar device via a serial bus (SSCNET) and the servo amplifier reads position data directly to perform operation.
Data from a command unit controls the speed and rotation direction of the servo motor and executes precision positioning.
A torque limit is imposed on the servo amplifier by the clamp circuit to protect the power transistor in the main circuit from overcurrent due to sudden acceleration/deceleration or overload. The torque limit value can be changed to any value with an external analog input or the parameter.
As this new series has the RS-232C serial communication function, a MR Configurator (servo configuration software)-installed personal computer or the like can be used to perform parameter setting, test operation, status display monitoring, gain adjustment, etc.
With real-time auto tuning, you can automatically adjust the servo gains according to the machine. The MELSERVO-J2-Super series servo motor is equipped with an absolute position encoder which has the resolution of 131072 pulses/rev to ensure more accurate control as compared to the MELSERVO-J2 series. Simply adding a battery to the servo amplifier makes up an absolute position detection system. This makes home position return unnecessary at power-on or alarm occurrence by setting a home position once.
Rating Plate:

Model: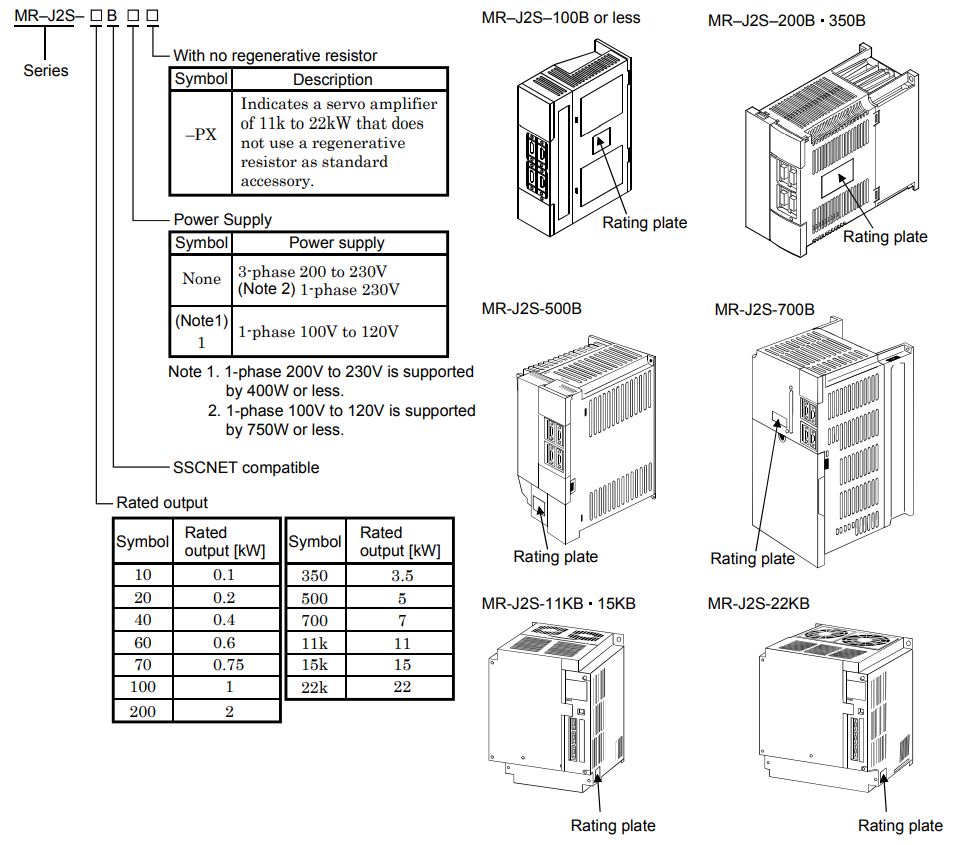 Our advantage products:
AB: Input / Output Module / Touch Screen
ABB: Inverter/ I/O Module
GE: IC200/ 693 / 694 etc. series
SIEMENS: 6ES7 / 6EP / 6AV / 6SE etc.
EBMPAPST / Zhiel Abegg : Centrifugal Cooling fan (Use for ABB/SIEMENS inverters)
Mitsubishi / FANUC / Yaskawa / Panasonic / Oriental Motor: Servo Motor & Servo Drive