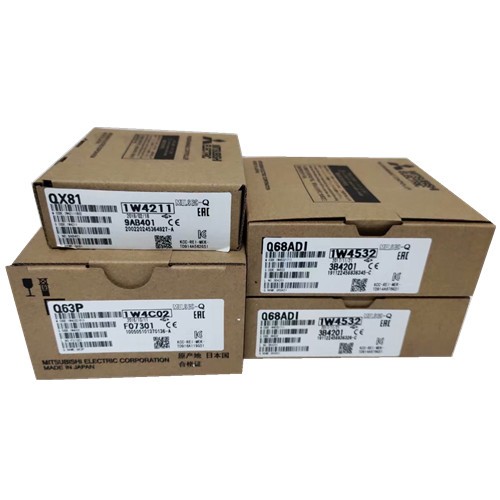 Mitsubishi PLC Module Q63P new Power Supply Unit
Mitsubishi PLC Module Q63P new Power Supply Unit
Product Details:

Manufacturer : Mitsubishi Electric
Product No. : Q63P
Product type : Power Supply Module
24VDC input, 5VDC 6A output
Base loading position : Power supply module loading slot
Applicable base unit : Q33B, Q35B, Q38B, Q312B, Q65B, Q68B, Q612B
Input power supply : 24VDC (+30%/-35%) (15.6 to 31.2VDC)
Inrush current : 100A 1ms or less (at 24VDC input)
PLC Power Supply: Q61P,Q62P,Q63P,Q64P,A1S62P,A1S63P,A1S61PN
MELSEC iQ-R Series

The core for next-generation automation environment.
To succeed in highly competitive markets, it's important to build automation systems that ensure high productivity and consistent product quality.
MELSEC iQ-R is taking a three-point approach to solving these problems: Reducing TCO, increasing Reliability and Reuse of existing assets.
Related PLC Modules
| | |
| --- | --- |
| Power Supply Model | Specifications |
| Q61P | Input voltage: 100…240 V AC, output voltage: 5 V DC, output current: 6 A |
| Q62P | Input voltage: 100…240 V AC, output voltage: 5/24 V DC, output current: 3/0.6 A |
| Q63P | Input voltage: 24 V DC, output voltage: 5 V DC, output current: 6 A |
| Q64PN | Input voltage: 100…240 V AC, output voltage: 5 V DC, output current: 8.5 A |
| Q61P-D | Input voltage: 100…240 V AC, output voltage: 5 V DC, output current: 6 A |
| Q61SP | Input voltage: 100…240 V AC, output voltage: 5 V DC, output current: 2 A |
| Q63RP | Input voltage: 24 V DC, output voltage: 5 V DC, output current: 8.5 A |
| Q64RPN | Input voltage: 100…240 V AC, output voltage: 5 V DC, output current: 8.5 A |
Power Supply Modules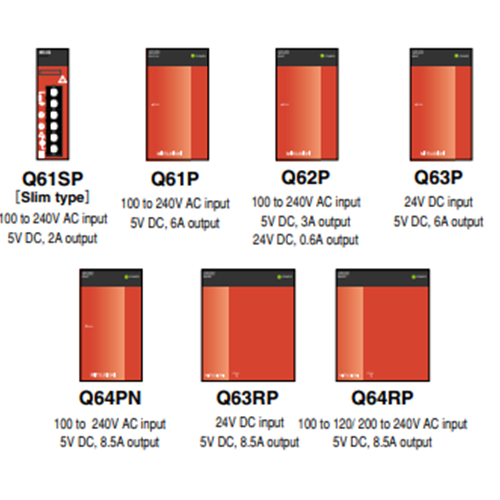 Our advantage products:
AB: Input / Output Module / Touch Screen
ABB: Inverter/ I/O Module
GE: IC200/ 693 / 694 etc. series
SIEMENS: 6ES7 / 6EP / 6AV / 6SE etc.
EBMPAPST / Zhiel Abegg : Centrifugal Cooling fan (Use for ABB/SIEMENS inverters)
Mitsubishi / FANUC / Yaskawa / Panasonic / Oriental Motor: Servo Motor & Servo Drive