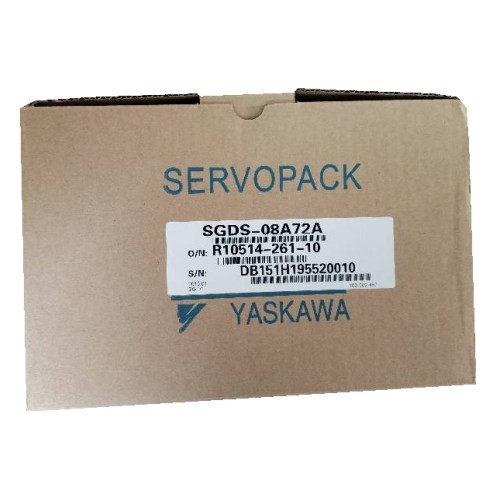 Yaskawa CNC Drives SGDS-08A72A Power 750W SERVOPACK Servo Driver
Yaskawa CNC Drives SGDS-08A72A Power 750W SERVOPACK Servo Driver
---
Product Details
| | |
| --- | --- |
| Model | SGDS-08A72A |
| Servo Amplifier Type | SGDS Sigma III SERVOPACK SERVO AC DRIVE |
| Voltage | 200 V |
| AC Output Power | 750 W |
| Manufacture | Yaskawa Electric |
| Country of Origin | Japan |
---
Similar Omron Yaskawa Servo Drive
SGDS-02A01ARY501
SGDS-02A05A
SGDS-02A12A
SGDS-02A12AY506-E
SGDS-02A15A
SGDS-02A72A
SGDS-02F01A
SGDS-02F12A
SGDS-04A01A
SGDS-04A01A
SGMAS-04ACA21
SGDS-04A02A
SGDS-04A101A
SGDS-04A105A
SGDS-04A12A
SGDS-04A12AY27
SGDS-04A12AY511
SGDS-04A15A
SGDS-04F01A
SGDS-08A01A
SGDS-08A05A
SGDS-08A12A
SGDS-08A12AY27
SGDS-08A12AY506-E
SGDS-08A12AY524
SGDS-08A15A
SGDS-10A01A
SGDS-10A12A

Single-phase, 230 V:
SGDH-A3AE-OY,SGDH-A5AE-OY ,SGDH-01AE-OY ,SGDH-02AE-OY,SGDH-04AE-OY ,SGDH-08AE-S-OY ,SGDH-15AE-S-OY,

Three-phase, 400 V (up to 15 kW):
SGDH-05DE-OY ,SGDH-10DE-OY,SGDH-15DE-OY,SGDH-20DE-OY,SGDH-30DE-OY,SGDH-50DE-OY,SGDH-60DE-OY,SGDH-75DE-OY,SGDH-1ADE-OY,SGDH-1EDE-OY,


Three-phase, 400 V (from 22 kW to 55 kW):
SGDH-2BDE,SGDH-3ZDE,SGDH-3GDE,SGDH-4EDE,SGDH-5EDE
---
About Yaskawa Electric Corporation
The Yaskawa Electric Corporation is a Japanese manufacturer of servos, motion controllers, AC motor drives, switches and industrial robots. Their Motoman robots are heavy duty industrial robots used in welding, packaging, assembly, coating, cutting, material handling and general automation.
---
About Yaskawa SGDH Sigma II Series
30W to 55kW

Sigma II Amplifier is the ultimate servo solution for your automation needs. A single platform covers 30 watts to 55 kW and input voltages of 110, 230 and 480 VAC. The Sigma II amplifier can be set to torque, speed, or position control. A single-axis controller and a variety of network interface modules can be attached to the amplifier for the utmost flexibility. The Sigma II amplifier utilizes serial encoder technology to automatically recognize Sigma II rotary and linear servomotors.
---
Other AC Servopack Drive
SGDM-01AD,SGDM-01ADA ,SGDM-01ADA,SGDH-01AE,SGMAH-01AAA21 ,SGDM-01ADA,
SGMAH-01AAAG761 ,SGDM-01ADA-RY5 ,SGMAH-A5BAA21,SGDM-01BDA ,SGDM-02ADA ,
SGDM-02ADA,SGDH-02AE,SGMAH-02AAA21 ,SGDM-02ADA,SGMAH-02AAA2C ,SGDM-02ADA,
SGMPH-02AAA41,SGDM-02ADA,SGMPH-02A1A21 ,SGDM-02AD-R ,SGDM-02BDA ,SGDM-02BDA ,
SGDM-02BDA,SGMAH-02BBAB1 ,SGDM-04AC-AD2B ,SGDM-04AC-SD1 ,SGDM-04AC-SD2A ,
SGDM-04ACSD2B ,SGDM-04AC-SD2B ,SGDM-04AC-SD2BM ,SGDM-04AC-SD2M ,SGDM-04AD ,
SGMAH-04AAA41 ,SGDM-04ADA ,SGMAH-04AAA21,SGMAH-04AAA41 ,SGMPH-04A1A21 ,
SGDM-04ADA-RY1 ,SGDM-04ADAY360 ,SGDM-04AD-R ,SGDM-04AD-RY1 ,SGDM-04ADY39 ,
SGDM-05ADA ,SGDM-05ADA,SGMAH-A5AAA21 ,SGDM-05ADA,SGMGH-05ACA6 ,SGDM-05ADAY118 ,
SGDM-05ADAY61 ,SGDM-08AC-SD1 ,SGDM-08AC-SD2A ,SGDM-08AC-SD2B ,SGDM-08AC-SD2BM ,
SGDM-08AC-SD2M ,SGDM-08ADA,SGMAH-08AAA21 ,SGDM-08ADA,SGMAH-08AAA41 ,SGDM-08ADA,
SGMAH-08AAA41 ,SGDM-08AD-YR24 ,SGDM-10AC-SD1 ,SGDM-10ADA ,SGDM-10ADG-P ,SGDM-10AN-P ,
SGDM-15AC-SD1 ,SGDM-15ADA ,SGDH-15AE ,SGDM-1AADA ,SGDM-1EADA ,SGDM-20AC-SD1 ,
SGDM-20AC-SD2B ,SGDM-20AC-SD2BM ,SGDM-20ADA ,SGDM-20ADA-V ,SGDM-20ADA-Y47 ,
SGDM-30AC-SD1 ,SGDM-30ADA ,SGDM-30ADA-V ,SGDM-50AC-SD1 ,SGDM-50ADA ,SGDM-50ADAY60 ,
SGDM-60AC-SD1 ,SGDM-60ADA ,SGDM-75AC-SD1 ,SGDM-75ADA ,SGDM-A3ADA ,SGMAH-A3AAAJ36C ,
SGMAH-A3ABA21j,SGDM-A3ADA-R ,SGDM-A3BD ,SGDM-A3BDA ,SGDM-A3BDAY278 ,SGDM-A5ADA ,
SGMAH-A5AAA21 ,SGDM-A5ADA-R ,SGDM-A5ADA-TE3B ,SGDM-A5AD-RY90,SGMAH-A5AAA21 ,
SGDM-A5ADY90 ,SGDM-A5BDA ,SGMAH-A3BAA21
---
Choosing Model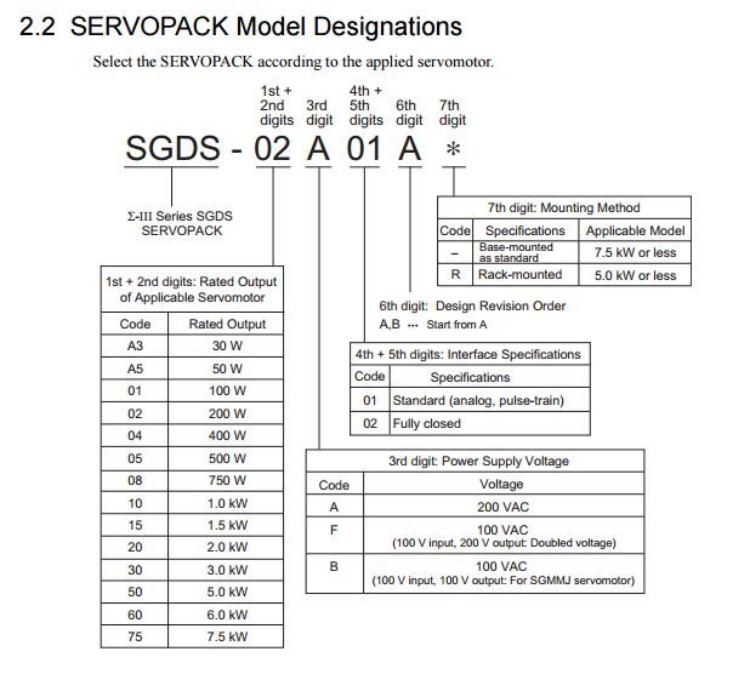 ---
Dimension of
SGDH-15AE-S (230 V, 1.5 kW)
SGDH-20/30DE-OY (400 V, 2/3 kW)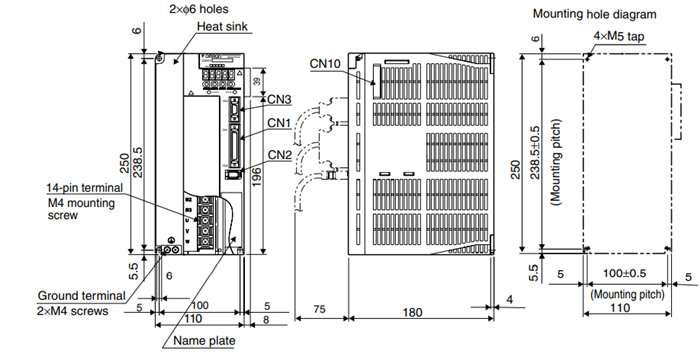 ---
Our advantage products:
AB: Input / Output Module / Touch Screen
ABB: Inverter/ I/O Module
GE: IC200/ 693 / 694 etc. series
SIEMENS: 6ES7 / 6EP / 6AV / 6SE etc.
EBMPAPST / Zhiel Abegg : Centrifugal Cooling fan (Use for ABB/SIEMENS inverters)
Mitsubishi / FANUC / Yaskawa / Panasonic / Oriental Motor: Servo Motor & Servo Drive