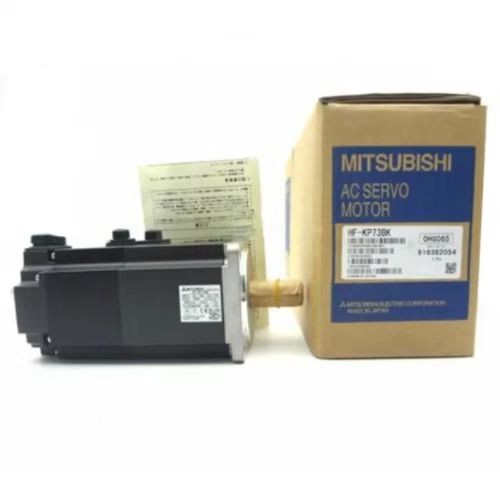 750W Mitsubishi Industrial Motors HF-KP73BK High Speed AC Servo Motor 3000RPM
750W Mitsubishi Industrial Motors HF-KP73BK High Speed AC Servo Motor 3000RPM
---
Specifications of servo motor HF-KP73BK
| | |
| --- | --- |
| Manufacture | Mitsubishi from Japan |
| Model no. | HF-KP73BK |
| Condition | New Original |
| Rated Power | 750W |
| Input | 3AC,106V,5.2A |
| Rated torque (N · m) | 2.4 |
| Rated rotational speed (r / min): | 3000 |
| Maximum rotation speed (r / min) | 6000 |
| Net Weight | 3.9KG |
| Warranty | One Year |
Servo motor HF-KP73B Match Servo Amplifier
MR-J3-70A; MR-J3-70B ;MR-J3-70T
---
Description
Low-inertia rotary AC servo motor – Keyway shaft with key – Mitsubishi Electric (MELSERVO J3 Series) – Rated power 750W / 0.75kW – Rated torque 2.4Nm / 1.77ft.lbf – Rated rotational speed 3000rpm – with Encoder output (18-bit / 262144pulses/revolution resolution) – IP65 – with Electromagnetic brake – rated for 0-40°C ambient.
---
Related servo motors
HF-KP13 Motors-AC Servo
HF-KP23 Motors-AC Servo
HF-KP43 Motors-AC Servo
HF-KP43G5 Motors-AC Servo
HF-KP73B Motors-AC Servo
HF-KP73K Motors-AC Servo
HG-KR053 ,HG-KR053B ,HG-KR053D ,HG-KR053BD ,HG-KR13D,HG-KR13BD,HG-KR23K,HG-KR23BK,
HG-KR43K,HG-KR43BK,HG-KR73K,HG-KR73BK,HG-MR053,HG-MR053B,HG-MR053D,HG-MR053BD,
HG-MR13D,HG-MR13BD,HG-MR23K,HG-MR23BK,HG-MR43K,HG-MR43BK,HG-MR73K,HG-MR73BK
Servo Motor Selection 200V/100V (Example Part No. = HG-KR053BG1)
Not all options available for every motor.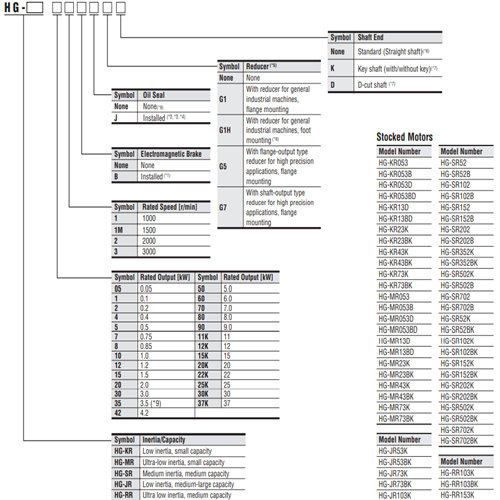 Our advantage products:
AB: Input / Output Module / Touch Screen
ABB: Inverter/ I/O Module
GE: IC200/ 693 / 694 etc. series
SIEMENS: 6ES7 / 6EP / 6AV / 6SE etc.
EBMPAPST / Zhiel Abegg : Centrifugal Cooling fan (Use for ABB/SIEMENS inverters)
Mitsubishi / FANUC / Yaskawa / Panasonic / Oriental Motor: Servo Motor & Servo Drive