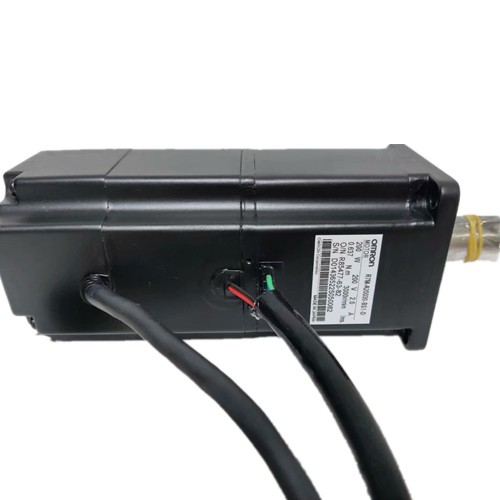 OMRON SMART STEP 200W AC Servo Motor R7M-A20030-BS1-D with brake
OMRON SMART STEP 200W AC Servo Motor R7M-A20030-BS1-D with brake
---
Description:
OMRON - R7M-A20030-BS1-D SMART STEP AC SERVO MOTOR (CYLINDER TYPE), IP67 CONNECTORS, 200W, WITH BRAKE, 3000RPM, 0.637NM
---
R7M-A, R7M-AP Series SmartStep servo motors
The smart alternative to stepper motors
1)SmartStep motors can be controlled by SmartStep
drive and XtraDrive
2)Cylindrical and flat servo motor types are available
3)Easy to setup, easy to operate. SmartStep is as
easy to use as a stepper motor
4)Front-panel switches in the SmartStep drive make
settings easy and eliminate the need for time-consuming parameter settings
5)Extended features and embedded in drive control
can be provided using intelligent XtraDrive
6)Models with brake available
7)Easy to connect to the drive using prebuilt cables
Ratings
230 VAC from 30 W to 750 W
(0.095 Nm to 2.39 Nm)
---
OMRON Servo Motors
R7M-A03030-S1-D
R7M-A05030-S1-D
R7M-A10030-S1-D
R7M-A20030-S1-D
R7M-A40030-S1-D
R7M-A75030-S1-D
R7M-A03030-BS1-D
R7M-A05030-BS1-D
R7M-A10030-BS1-D
R7M-A20030-BS1-D
R7M-A40030-BS1-D
R7M-A75030-BS1-D
R7M-AP10030-S1-D
R7M-AP20030-S1-D
R7M-AP40030-S1-D
R7M-AP75030-S1-D
R7M-AP10030-BS1-D
R7M-AP20030-BS1-D
R7M-AP40030-BS1-D
R7M-AP75030-BS1-D
---
System configuration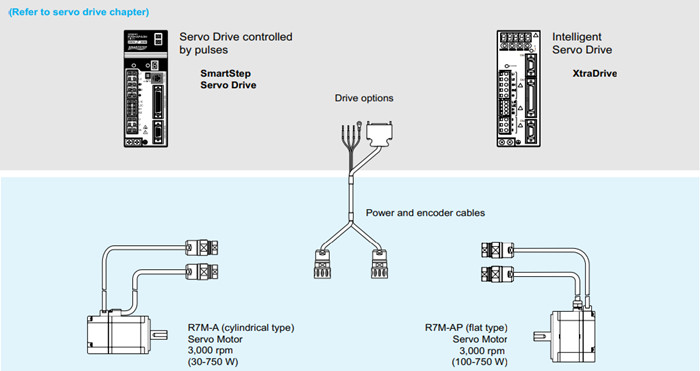 ---
Our advantage products:
AB: Input / Output Module / Touch Screen
ABB: Inverter/ I/O Module
GE: IC200/ 693 / 694 etc. series
SIEMENS: 6ES7 / 6EP / 6AV / 6SE etc.
EBMPAPST / Zhiel Abegg : Centrifugal Cooling fan (Use for ABB/SIEMENS inverters)
Mitsubishi / FANUC / Yaskawa / Panasonic / Oriental Motor: Servo Motor & Servo Drive
If you want to inquiry, pls click contact us and call us or send e-mail to us !