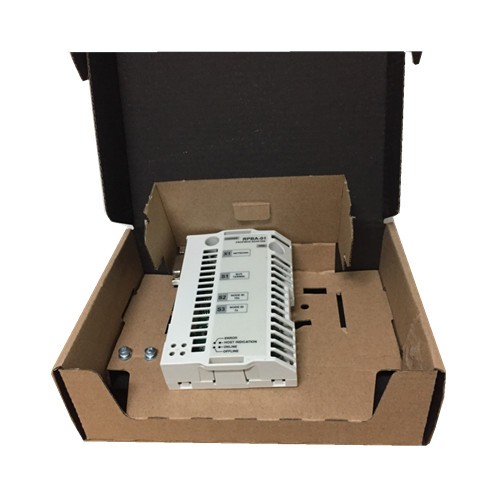 NEW 3AFE64606859 ABB Fieldbus PROFIBUS DP Adapter Module RPBA-01
NEW 3AFE64606859 ABB Fieldbus PROFIBUS DP Adapter Module RPBA-01
---
Overview of RPBA-01
The R-series RPBA-01 adapter module supports PROFIBUS DP-V0 and DP-V1 communication. The RPBA-01 automatically detects the telegram type used and supports PPO messages 1 to 6. Communication profiles: PROFIdrive and ABB drives profile are supported.
The RPBA-01 PROFIBUS DP Adapter module is one of the optional fieldbus adapter modules available for ABB drives. The RPBA-01 is a device through which an ABB drive is connected to a PROFIBUS network.
This chapter states the general safety instructions that must be followed when installing and operating the RPBA-01 PROFIBUS DP Adapter module.
The material in this chapter must be studied before attempting any work on, or with, the unit.
In addition to the safety instructions given below, read the complete safety instructions of the specific drive you are working on.
---
The RPBA-01 PROFIBUS DP Adapter module
The RPBA-01 PROFIBUS DP Adapter module is an optional device for ABB drives which enables the connection of the drive to a PROFIBUS network. The drive is considered as a slave on the PROFIBUS network.
Through the RPBA-01 PROFIBUS DP Adapter module, it is possible to:
a:give control commands to the drive (Start, Stop, Run enable, etc.)
b: feed a motor speed or torque reference to the drive
c:give a process actual value or a process reference to the PID controller of the drive
d:read status information and actual values from the drive
e:change drive parameter values
f:reset a drive fault

The PROFIBUS commands and services supported by the RPBA-01 PROFIBUS DP Adapter module are discussed in the chapters DP-V0 communication and DP-V1 communication.Please refer to the user documentation of the drive as to which commands are supported by the drive.
The adapter module is mounted into an option slot on the motor control board of the drive. See the Hardware Manual of the drive for module placement options.

---
PROFIBUS standard
PROFIBUS is an open serial communication standard that enables data exchange between all kinds of automation components. There are three main variations of PROFIBUS: PROFIBUS-FMS (Fieldbus Message Specification), PROFIBUS-DP (Decentralised Periphery) and PROFIBUS-PA (Process Automation). The RPBA-01 PROFIBUS DP Adapter module supports the PROFIBUS DP protocol, including its DP-V1 extension.
---
Figure:The construction of the PROFIBUS link and the RPBA-01 Adapter module.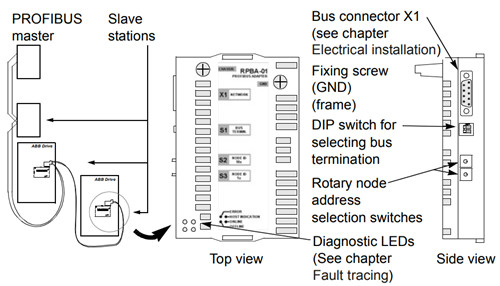 ---
Our advantage products:
AB: Input / Output Module / Touch Screen
ABB: Inverter/ I/O Module
GE: IC200/ 693 / 694 etc. series
SIEMENS: 6ES7 / 6EP / 6AV / 6SE etc.
EBMPAPST / Zhiel Abegg : Centrifugal Cooling fan (Use for ABB/SIEMENS inverters)
Mitsubishi / FANUC / Yaskawa / Panasonic / Oriental Motor: Servo Motor & Servo Drive