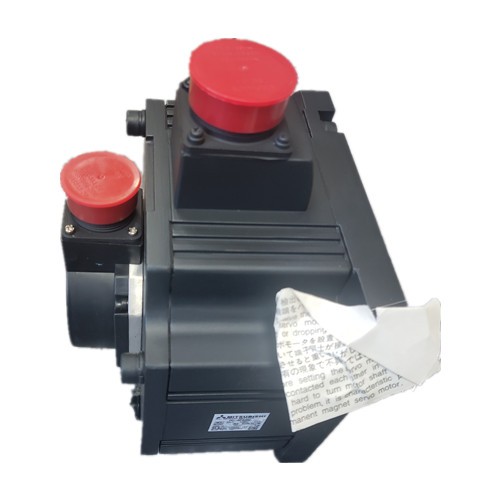 Mitsubishi MELSERVO-J2S 2kW HC-SFS series Servomotor HC-SFS202
Mitsubishi MELSERVO-J2S 2kW HC-SFS series Servomotor HC-SFS202
---
Introduction
The Mitsubishi MELSERVO-J2-Super series general-purpose AC servo is based on the MELSERVO-J2 series and has further higher performance and higher functions.
It has position control, speed control and torque control modes. Further, it can perform operation with the control modes changed, e.g. position/speed control, speed/torque control and torque/position control. Hence, it is applicable to a wide range of fields, not only precision positioning and smooth speed control of
machine tools and general industrial machines but also line control and tension control.
As this new series has the RS-232C or RS-422 serial communication function, a MR Configurator (servo configuration software)-installed personal computer or the like can be used to perform parameter setting, test operation, status display monitoring, gain adjustment, etc.
With real-time auto tuning, you can automatically adjust the servo gains according to the machine. The MELSERVO-J2-Super series servo motor is equipped with an absolute position encoder which has the resolution of 131072 pulses/rev to ensure more accurate control as compared to the MELSERVO-J2
series. Simply adding a battery to the servo amplifier makes up an absolute position detection system.This makes home position return unnecessary at power-on or alarm occurrence by setting a home position once.

---
Specifications of
servo motor
HC-SFS202
| | |
| --- | --- |
| Manufacture | Mitsubishi from Japan |
| Model no. | HC-SFS202 |
| Condition | New Original |
| Power | 2KW |
| Servo Amplifier Model | MR-J2S-200A/B |
| Input | 11 AMP, 138 V, 3 AC, 2 KW, IP65 |
| Speed | 2000rpm/min |
| Net Weight | 12KG |
| Warranty | One Year |
---
Related servo motors
HC-SFS202 HC-SFS202B HC-SFS352 HC-SFS352B
HC-SFS502 HC-SFS502B HC-SFS702 HC-SFS702B
HC-SFS53 HC-SFS53B HC-SFS103 HC-SFS103B
HC-SFS153 HC-SFS153B HC-SFS203 HC-SFS203B
HC-SFS353 HC-SFS353B) HC-SFS524 HC-SFS524B
HC-SFS1024 HC-SFS1024 HC-SFS2024 HC-SFS2024B
HC-SFS1524 HC-SFS1524B HC-SFS3524 HC-SFS3524B
HC-SFS5024 HC-SFS5024) HC-SFS7024 HC-SFS7024B
Matched Servo Amplifier
MR-J2S-100A/MR-J2S-100B/MR-J2S-100CP/MR-J2S-100CL
MR-J2S-200A/MR-J2S-200B/MR-J2S-200CP/MR-J2S-200CL
MR-J2S-350A/MR-J2S-350B/MR-J2S-350CP/MR-J2S-350CL
MR-J2S-60A/MR-J2S-60B/MR-J2S-60CP/MR-J2S-60CL
MR-J2S-100A/MR-J2S-100B/MR-J2S-100CP/MR-J2S-100CL
Other series servo motor
HF-KP053K,HF-KP13,HF-KP13B,HF-KP13BK,HF-KP13K,HF-KP23,HF-KP23B,HF-KP23BK,HF-KP23K,HF-KP43,
HF-KP43B,HF-KP43J,HF-KP43K,HF-KP43-S12,HF-KP73,HF-KP73B,HF-KP73J,HF-KP73K,HF-KP053,HF-KP13,
HF-KP23,HF-KP73,HF-KP053B,HF-KP13B,HF-KP23B,HF-KP73B,HF-KP053G1,HF-KP13G1,HF-KP23G1,HF-KP43G1,
HF-KP73G1,HF-KP053BG1,HF-KP13BG1,HF-KP23BG1,HF-KP43BG1,HF-KP73BG1,HF-KP053G5,HF-KP13G5,HF-KP23G5,
HF-KP43G5,HF-KP73G5,HF-KP053BG5,HF-KP13BG5,HF-KP23BG5,HF-KP43BG5,HF-KP73BG5,HF-KP13G7,
HG-KR053 ,HG-KR053B ,HG-KR053D ,HG-KR053BD ,HG-KR13D,HG-KR13BD,HG-KR23K,HG-KR23BK,
HG-KR43K,HG-KR43BK,HG-KR73K,HG-KR73BK,HG-MR053,HG-MR053B,HG-MR053D,HG-MR053BD,
HG-MR13D,HG-MR13BD,HG-MR23K,HG-MR23BK,HG-MR43K,HG-MR43BK,HG-MR73K,HG-MR73BK
HC-MFS053 HC-MFS13 HC-MFS23 HC-MFS43 HC-MFS73 HC-MFS053B HC-MFS053 HC-KFS053 HC-MFS13
HC-KFS13 HC-MFS053B HC-KFS053B HC-MFS13B HC-KFS13B HC-MFS053K HC-KFS053K HC-MFS13K HC-KFS13K
HC-MFS053BK HC-KFS053BK HC-MFS13BK HC-KFS13BK HC-MFS23 HC-KFS23 HC-MFS43 HC-KFS43
HC-MFS23B HC-KFS23B HC-MFS43B HC-KFS43B HC-MFS23K HC-KFS23K HC-MFS43K HC-KFS43K
HC-MFS23BK HC-KFS23BK HC-MFS43BK HC-KFS43BK HC-MFS73 HC-KFS73 HC-MFS73B HC-KFS73B
HC-MFS73K HC-KFS73K HC-MFS73BK HC-KFS73BK HC-RFS103 HC-RFS153 HC-RFS203 HC-RFS353
HA-FF053D HA-FF053B HA-FF053BD HC-MFS053 HC-MFS053B HC-MFS13 HC-KFS43
HC-KFS053B HC-MFS13B HC-KFS13B HC-KFS13K HC-MFS053K HC-KFS053K HC-MFS13K
HC-MFS053BK HC-KFS053BK HC-MFS13BK HC-KFS13BK HC-MFS23 HC-KFS23 HC-MFS43 HC-KFS43
HC-MFS23B HC-KFS23B HC-MFS43B HC-KFS43B HC-MFS23K HC-KFS23K HC-MFS43K HC-KFS43K
HC-MFS23BK HC-KFS23BK HC-MFS43BK HC-KFS43BK HC-MFS73 HC-KFS73 HC-MFS73B HC-MFS73K
HC-KFS73K HC-MFS73BK HC-KFS73BK HC-KFS73B HC-SFS81 HC-SFS121 HC-SFS201 HC-SFS301
HC-SFS52 HC-SFS102 HC-SFS152 HC-SFS202 HC-SFS52B HC-SFS102B HC-SFS152B HC-SFS202B
HC-SFS52K HC-SFS102K HC-SFS152K HC-SFS202K HC-SFS52BK HC-SFS102BK HC-SFS152BK HC-SFS202BK
HC-SFS352 HC-SFS502 HC-SFS702 HC-SFS352B HC-SFS502B HC-SFS702B HC-SFS353
HC-SFS352K HC-SFS502K HC-SFS702K HC-RFS353 HC-RFS103 HC-RFS153 HC-RFS203 HC-RFS353
HC-SFS53 HC-SFS103 HC-SFS153 HC-SFS203
---
Our advantage products:
AB: Input / Output Module / Touch Screen
ABB: Inverter/ I/O Module
GE: IC200/ 693 / 694 etc. series
SIEMENS: 6ES7 / 6EP / 6AV / 6SE etc.
EBMPAPST / Zhiel Abegg : Centrifugal Cooling fan (Use for ABB/SIEMENS inverters)
Mitsubishi / FANUC / Yaskawa / Panasonic / Oriental Motor: Servo Motor & Servo Drive