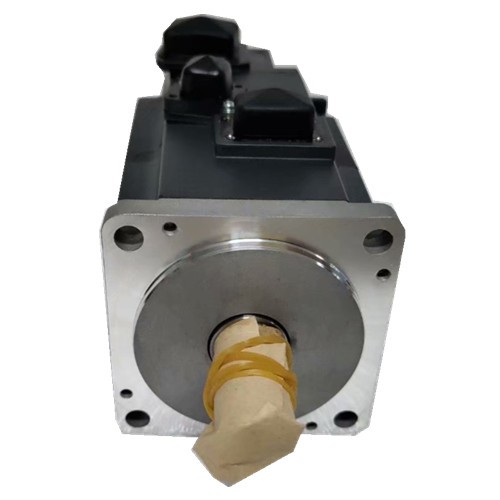 Mitsubishi 200W Low inertia AC servo motor HG-KR23BK-S000997
Mitsubishi 20W AC servo motor HG-KR23BK-S000997
Product Description of servo motor HG-KR23BK-S000997
The maximum rotation speed is 6,000 r/min against the rated rotation speed of 3,000 r/min.
The maximum torque is applicable with 350% of the rated torque, and high torque is realized in the high rotation range.
[Features]
・ High resolution absolute position encoder (4,194,304 pulses/rev (22 bit)) is standard equipment. It achieves higher accuracy positioning.
・ IP65 is adopted as standard. No problem with water and dust
・ The power cable, encoder cable, and electromagnetic brake cable can be pulled out from the servo motor either on the load side or the non-load side by selecting the cable.
・ Torque ripple is greatly reduced by optimizing the combination of motor poles and slots.
・ It operates smoothly even at low speed operation, which is easily affected by torque ripple, and improves stability.
Specifications of servo motor HG-KR23BK-S000997
| | |
| --- | --- |
| Manufacture | Mitsubishi from Japan |
| Model no. | HG-KR23BK-S000997 |
| Condition | New Original |
| Power | 200W |
| Input | 3AC,119V,1.3A |
| Speed | 3000rpm/min |
| Net Weight | 1.3KG |
| Warranty | One Year |
Servo motor HG-KR23 Match Servo Amplifier
MR-J4-20B(-RJ), MR-J4-20B1(-RJ), MR-J4-20B-RJ010, MR-J4-20A(-RJ), MR-J4-20A1(-RJ)
MR-J4W2-22B, MR-J4W2-44B,MR-J4W3-222B, MR-J4W3-444B
Related servo motors
HG-KR053 ,HG-KR053B ,HG-KR053D ,HG-KR053BD ,HG-KR13D,HG-KR13BD,HG-KR23K,HG-KR23BK\,
HG-KR43K,HG-KR43BK,HG-KR73K,HG-KR73BK,HG-MR053,HG-MR053B,HG-MR053D,HG-MR053BD,
HG-MR13D,HG-MR13BD,HG-MR23K,HG-MR23BK,HG-MR43K,HG-MR43BK,HG-MR73K,HG-MR73BK
Servo Motor Selection 200V/100V (Example Part No. = HG-KR053BG1)
Not all options available for every motor.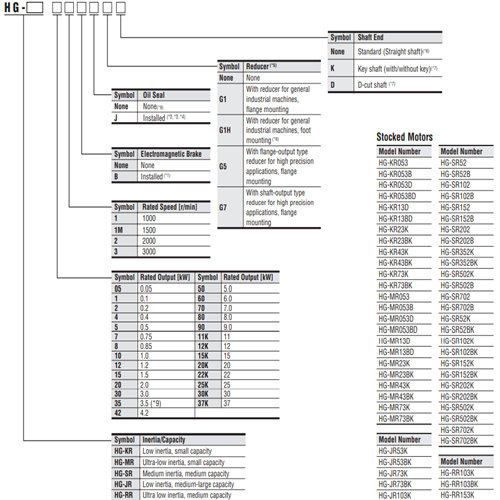 Our advantage products:
AB: Input / Output Module / Touch Screen
ABB: Inverter/ I/O Module
GE: IC200/ 693 / 694 etc. series
SIEMENS: 6ES7 / 6EP / 6AV / 6SE etc.
EBMPAPST / Zhiel Abegg : Centrifugal Cooling fan (Use for ABB/SIEMENS inverters)
Mitsubishi / FANUC / Yaskawa / Panasonic / Oriental Motor: Servo Motor & Servo Drive