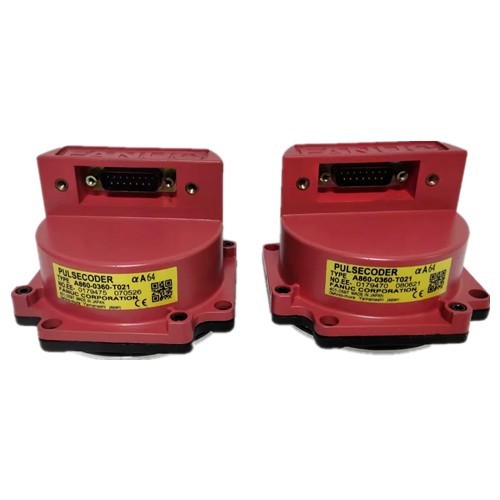 Japan Fanuc Pulsecoder A860-0360-T021 New Servo Motor Encoder
Japan Fanuc Pulsecoder A860-0360-T021 New Servo Motor Encoder
About Fanuc
FANUC has consistently pursued the automation of factories since 1956, when it succeeded in the development of the SERVO mechanism for the first time in the Japanese private sector.
With its three pillars consisting of the FA business, which encompasses FANUC's basic technology of NC (numerical control) and servos, the ROBOT and ROBOMACHINE businesses which apply this basic technology, and the open platform, "FIELD system," which is a manifestation of IoT, FANUC contributes to the manufacturing industry in Japan and overseas by promoting automation and efficiency in manufacturing.
About PULSECODER A860-0360-T021
Fanuc A860-0360-T021 aA64 Encoder. This aA64 encoder is the latest version of the 0360 series of encoders for small Fanuc AC servo motors. Normally found on a variety of motors; normally with the suffix Bx76; and models a1, a2/2000, a2/3000, a2.5/3000 with the same body size.
Detail
FANUC A860-0360-T021
ALPHA Red ABS encoder
Models a1-a2.5 series with Bx76
Our advantage products:
AB: Input / Output Module / Touch Screen
ABB: Inverter/ I/O Module
GE: IC200/ 693 / 694 etc. series
SIEMENS: 6ES7 / 6EP / 6AV / 6SE etc.
EBMPAPST / Zhiel Abegg : Centrifugal Cooling fan (Use for ABB/SIEMENS inverters)
Mitsubishi / FANUC / Yaskawa / Panasonic / Oriental Motor: Servo Motor & Servo Drive