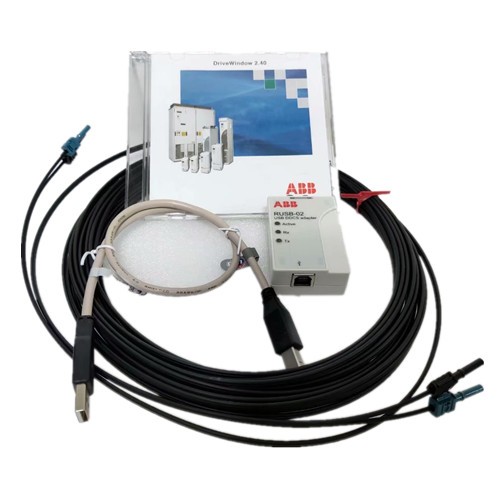 ABB PC CARD CONNECTION KIT DDCS RUSB-02 DriveWindow Communuication Adapter 3AUA0000040000
ABB PC CARD CONNECTION KIT DDCS RUSB-02 DriveWindow Communuication Adapter 3AUA0000040000
---
Catalog Description
of
RUSB-02
DriveWindow 2.x PC Card kit (EN); DriveWindow 2.x (Win2000, XP, Vista, Win7/32 and 64-bit, Win8/32 and 64-bit), incl. RUSB-02 3AUA0000040000 connection kit for laptop PC, English version.
---
Details of Adapter RUSB-02
DriveWindow 2.x programming software tools package for use with ABB's low and medium Voltage industrial drives. English Version.

DriveWindow is an easy to use software tool designed to support the drive's life cycle from startup and monitoring, to backup, and performance tuning.

The package Includes:-
RUSB-02 USB DDCS adaptor as the connection module for Laptop or PC.
0.5m High Speed USB 2.0 cable.
Fibre Optic pair with black and grey connectors.
3AFE64514849 Software Disc.

For use with: ACS800, ACS600, ACS6000, DCS600 Series Drives. Basic support for ACS880.

Manufacturer: ABB Drives.

Part Number: DriveWindow 2.40 PC Card Kit RUSB (EN) (3AUA0000040000)
---
Picture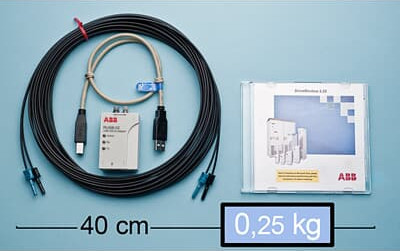 ---
Our advantage products:
AB: Input / Output Module / Touch Screen
ABB: Inverter/ I/O Module
GE: IC200/ 693 / 694 etc. series
SIEMENS: 6ES7 / 6EP / 6AV / 6SE etc.
EBMPAPST / Zhiel Abegg : Centrifugal Cooling fan (Use for ABB/SIEMENS inverters)
Mitsubishi / FANUC / Yaskawa / Panasonic / Oriental Motor: Servo Motor & Servo Drive