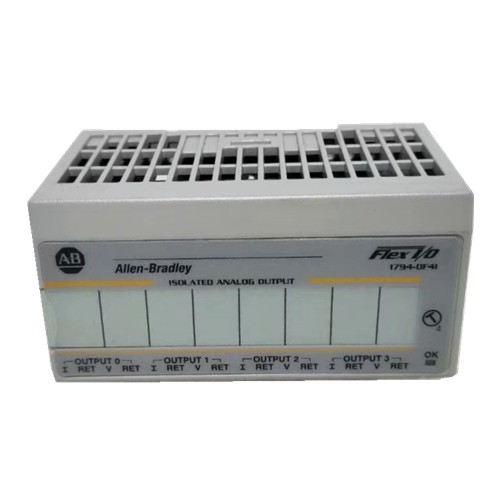 New Allen Bradley FLEX Input Output Isolated Output Analog Module 1794-OF4I
New Allen Bradley FLEX Input Output Isolated Output Analog Module 1794-OF4I
---
Description
The Allen-Bradley 1794-OF4I Flex I/O Isolated Output Analog Module has 4 Isolated Outputs, a 15 bits Resolution, and a Digital-to-Analog Converter Conversion Type. It also operates with a 3mA max. Current Load on Voltage Output and a 50mA FlexBus Current.
The Allen-Bradley 1794-OF4I is a FLEX I/O analog module. It has 4 isolated analog outputs that is compatible with several terminal base units, namely the 1794-TBT, 1794-TB3, 1794-TB3TS, 1794-TB3S, 1794-TBNF, and the 1794-TBN. It can be mounted using a DIN rail or a panel, it has an open enclosure, and it measures 3.7 x 2.6 x 3.7 inches.

The external DC voltage range of the 1794-OF4I module is 19.2 to 31.2 Volts DC, including the 5% AC ripple. It also has an external DC power supply current of 210 mA at 24 Volts DC. Its maximum overload is 30 Volts or 32 mA continuous in one channel at a time. This module has a maximum 3 mA current load on voltage output and a 0 to 750 resistive load on voltage output. Its output current ranges are 4 to 20 mA and 0 to 20 mA. Both of these ranges are user-configurable. The module's output voltage varies from +/-10 Volts, +/-5 Volts, 0 to 10 Volts, and 0 to 5 Volts, all of which are also user-configurable. Both the voltage and current terminals have 0 output until the module is configured.
---
Specifications
| | |
| --- | --- |
| Manufacturer | AB Rockwell Automation |
| Part Number/Catalog No. | 1794-OF4I |
| Conversion Type | Digital to Analog Converter |
| No. of outputs | Four (4); isolated |
| Resolution | 15 bits plus sign |
| Product Description | Flex IO High Output Module |
| Output type | 4-20 mA, 0-20 mA and ±10VDC; 0-10VDC; +/- 5VDC and 0-5VDC |
| Voltage Resolution | 0.320 mV/cnt |
| Current resolution | 0.656 mA/cnt |
| Step response to 63% of full scale | < 25 ms |
| Terminal base | 1794-TB2, 1794-TB3, 1794-TB3S, 1794-TB3T, 1794- TB3TS, 1794-TBN |
| External DC supply, nom | 24V DC |
| External DC supply range | 19.2…31.2V DC (includes 5% AC ripple) |
---
Related Models
| | |
| --- | --- |
| 1794-ACN | 24V dc ControlNet Adapter |
| 1794-ACNR | 24V dc Redundant Media ControlNet Adapter |
| 1794-ACN15 | 24V dc ControlNet Adapter |
| 1794-ACNR15 | 24V dc Redundant Media ControlNet Adapter |
| 1794-ADN | 24V dc DeviceNet Adapter |
| 1794-ASB/C | 24V dc Remote I/O Adapter |
| 1794-ASB2/B | 24V dc 2-Slot Remote I/O Adapter |
| 1794-APB | 24V dc Profibus Adapter |
| 1794-IB8 | 24V dc 8 Sink Input Module |
| 1794-OB8 | 24V dc 8 Source Output Module |
| 1794-IB16 | 24V dc 16 Sink Input Module |
| 1794-OB16 | 24V dc 16 Source Output Module |
| 1794-IV16 | 24V dc 16 Source Input Module |
| 1794-OV16 | 24V dc 16 Sink Output Module |
| 1794-OB8EP | 24V dc 8 Electronically Fused Output Module |
| 1794-IB8S | 24V dc Sensor Input Module |
| 1794-IB10XOB6 | 24V dc 10 Input/6 Output Module |
| 1794-IE8 | 24V dc Selectable Analog 8 Input Module |
| 1794-OE4 | 24V dc Selectable Analog 4 Output Module |
| 1794-IE4XOE2 | 24V dc 4 Input/2 Output Analog Module |
| 1794-OF4 | 24V dc 4 Output Isolated Analog Module |
| 1794-IF4 | 24V dc 4 Input Isolated Analog Module |
| 1794-IF2XOF2 | 24V dc 2 Input/2 Output Isolated Analog Module |
| 1794-IR8 | 24V dc 8 RTD Input Analog Module |
| 1794-IT8 | 24V dc 8 Thermocouple Input Module |
| 1794-IRT8 | 24V dc 8 Thermocouple/RTD Input Module |
| 1794-IJ2 | 24V dc 2 Frequency Input Module |
| 1794-IA8 | 120V ac 8 Input Module |
| 1794-OA8 | 120V ac Output Module |
| 1794-TB2 | 2-wire Terminal Base |
| 1794-TB3 | 3-wire Terminal Base |
| 1794-TBN | Terminal Base Unit |
| 1794-TBNF | Fused Terminal Base Unit |
| 1794-TB3T | Temperature Terminal Base Unit |
| 1794-TB3S | Spring Clamp Terminal Base Unit |
| 1794-TB3TS | Spring Clamp Temperature Base Unit |
| 1794-TB3G | Terminal Base Unit |
| 1794-TB3GS | Spring Clamp Terminal Base Unit |
| 1794-CE1,1794-CE3 | Extender Cables |
| 1794-NM1 | Mounting Kit |
| 1794-PS1 | 24V dc Power Supply |
---
1794-TB2,1794-TB3,1794-TB3S,1794-TB3T,1794-TB3TS and 1794-TBN Terminal Base Wiring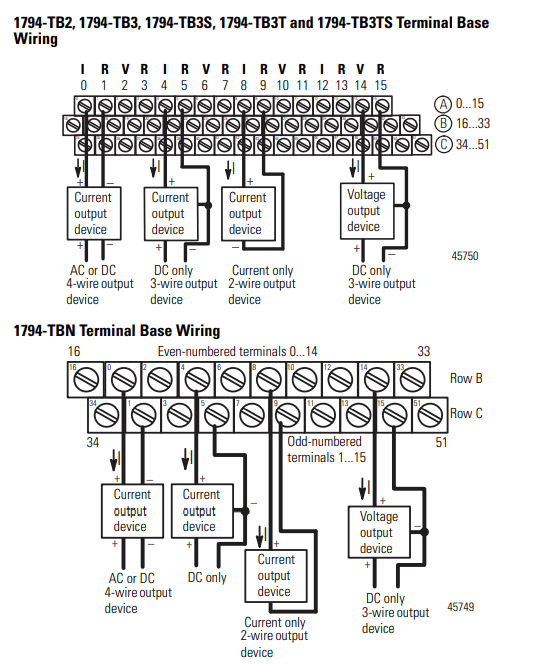 ---
Our advantage products:

AB: Input / Output Module / Touch Screen
ABB: Inverter/ I/O Module
GE: IC200/ 693 / 694 etc. series
SIEMENS: 6ES7 / 6EP / 6AV / 6SE etc.
EBMPAPST / Zhiel Abegg : Centrifugal Cooling fan (Use for ABB/SIEMENS inverters)
Mitsubishi / FANUC / Yaskawa / Panasonic / Oriental Motor: Servo Motor & Servo Drive