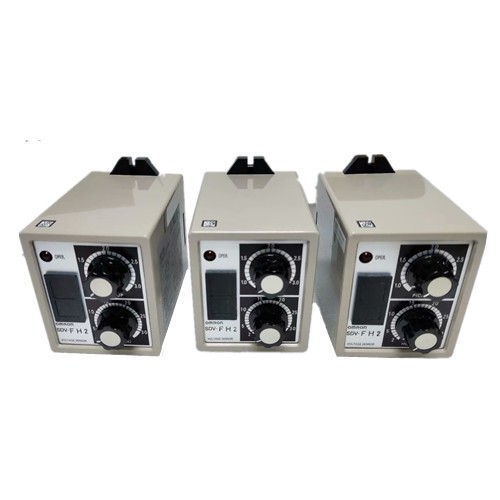 NEW Omron 24VDC Single-function Voltage Sensor SDV-FH2
NEW Omron 24VDC Single-function Voltage Sensor SDV-FH2
---
Description of Voltage Sensor SDV-FH2
Brand:Omron
Model:SDV-FH2
Country of origin:Japan
Control voltage: 24 VDC.
Operation:Single-function (overvoltage or undervoltage detection)
Operating Voltage Range:10 to 300 V (AC or DC input)
Control Power Supply Voltage:24 VDC
Timing Function (SDV-FH Only):None,Not provided
Overcurrent detectiion: Instantaneous type, W/start-up lock SDV-FH2.
Solid-state, Plug-in Current Sensor.
Applicable to motor overcurrent protection and 3-phase AC current detection.
Inverse-type, start-up lock type, and instantaneous type over,
current sensors avvailable SDV-FH2.
Instantaneous type under current sensor available.
Plug-in design simplifies installation, removal, and wiring.
DIN sized (48 mm x 96 mm).
---
Features of Voltage Sensor SDV
Overvoltage/Undervoltage Monitoring Relay for AC and DC Input
1)Detect overvoltages or undervoltages (switch selectable) from 4 mV to 300 V.
2)Detect undercurrent, reverse current, or overcurrent in DC circuits using shunt (SDV-FL).
3)Detect three-phase AC current for under and/or overcurrent using current converter.
4)Available in 7 supply voltage configurations.
5)Single-function model with ON-delay, OFF-delay, or startup lock settings (SDV-FH@T).
6)Select either AC or DC voltage input.
7)Polarity can be specified (SDV-FL) to enable easy reverse current detection.
8)Selectable reset value range from 2% to 30% of operating value (SDV-F).
9)LED operation indicator.
10)UL, CSA (SDV-F), and RCM approval.
---
Similar Voltage Sensor SDV
5A SDV-SH5
75A SDV-SH75
7.5A SDV-SH7.5
100A SDV-SH100
150A SDV-SH150
10A SDV-SH10
200A SDV-SH200
15A SDV-SH15
300A SDV-SH300
20A SDV-SH20
500A SDV-SH500
30A SDV-SH30
750A SDV-SH750
50A SDV-SH50
1,000A SDV-SH1000
24VDC SDV-FH2
240VAC SDV-FH71
24 VDC SDV-FH2T
48 VDC SDV-FH3T
100/110 VDC SDV-FH4T
125 VDC SDV-FH5T
200/220 VDC SDV-FH51T
100/110 VAC SDV-FH6T
120 VAC SDV-FH61T
200/220 VAC SDV-FH7T
240 VAC SDV-FH71T
24 VDC SDV-DM2 SDV-DH2
48 VDC SDV-DM3 SDV-DH3
100/110 VDC SDV-DM4 SDV-DH4
125 VDC SDV-DM5 SDV-DH5
100/110 VAC SDV-DM6 SDV-DH6
200/220 VAC SDV-DM7 SDV-DH7
240 VAC SDV-DM71 SDV-DH71
48VDC SDV-FL3 SDV-FM3 SDV-FH3
100/110VDC SDV-FL4 SDV-FM4 SDV-FH4
125VDC SDV-FL5 SDV-FM5 SDV-FH5
200/220VDC SDV-FH51
100/110VAC SDV-FL6 SDV-FM6 SDV-FH6
120VAC SDV-FH61
200/220 VAC SDV-FL7 SDV-FM7 SDV-FH7

---
Model Number Structure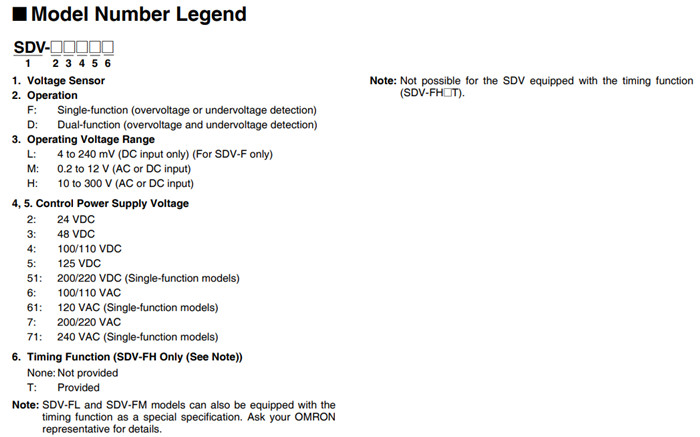 ---
Our advantage products:
AB: Input / Output Module / Touch Screen
ABB: Inverter/ I/O Module
GE: IC200/ 693 / 694 etc. series
SIEMENS: 6ES7 / 6EP / 6AV / 6SE etc.
EBMPAPST / Zhiel Abegg : Centrifugal Cooling fan (Use for ABB/SIEMENS inverters)
Mitsubishi / FANUC / Yaskawa / Panasonic / Oriental Motor: Servo Motor & Servo Drive