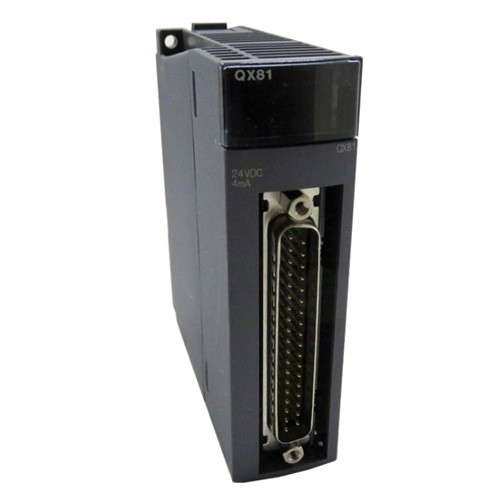 Mitsubishi Electric Melsec Q series PLC input unit QX81
Mitsubishi Electric PLC input unit QX81 Melsec Q series PLC Module
Product Details:
Brand : Mitsubishi Electric
Product Code : QX81
Product type : Digital Input Module (Negative Common Type)
Number of input points: 32 points
Rated input voltage: 24VDC/4mA
Connection Terminal: 37-pin D sub connector
More PLC module:
QX48Y57,QX28 ,QX70H,QX90H,QX70,QX40,QX40-TS,QX40-S1,QX40H,QI60,QX80,QX80H,QX80-TS,QX50,QX10,
QX10-TS,QX71,QX41,QX41-S1,QX41-S2,QH42P,QX41Y41P,QX81,QX81-S2,QX72.QX42,QX42-S1,QX82,QX82-S1
MELSEC iQ-R Series

The core for next-generation automation environment.
To succeed in highly competitive markets, it's important to build automation systems that ensure high productivity and consistent product quality.
MELSEC iQ-R is taking a three-point approach to solving these problems: Reducing TCO, increasing Reliability and Reuse of existing assets.
Features of Mitsubishi QX81 Melsec Q Series Input Module
1)Support high resolution devices. Pulse input and high speed counter module product group satisfying high speed and high precision control application.
2)High speed counter module for counting high-speed pulse train.
3)Can be used in combination with the external encoder for positioning and other control.
4)The maximum count rate can be switched, and the low frequency pulse is counted from the high speed pulse to the rising edge / falling edge.
Related PLC Modules
| | |
| --- | --- |
| Power Supply Model | Specifications |
| Q61P | Input voltage: 100…240 V AC, output voltage: 5 V DC, output current: 6 A |
| Q62P | Input voltage: 100…240 V AC, output voltage: 5/24 V DC, output current: 3/0.6 A |
| Q63P | Input voltage: 24 V DC, output voltage: 5 V DC, output current: 6 A |
| Q64PN | Input voltage: 100…240 V AC, output voltage: 5 V DC, output current: 8.5 A |
| Q61P-D | Input voltage: 100…240 V AC, output voltage: 5 V DC, output current: 6 A |
| Q61SP | Input voltage: 100…240 V AC, output voltage: 5 V DC, output current: 2 A |
| Q63RP | Input voltage: 24 V DC, output voltage: 5 V DC, output current: 8.5 A |
| Q64RPN | Input voltage: 100…240 V AC, output voltage: 5 V DC, output current: 8.5 A |
Our advantage products:
AB: Input / Output Module / Touch Screen
ABB: Inverter/ I/O Module
GE: IC200/ 693 / 694 etc. series
SIEMENS: 6ES7 / 6EP / 6AV / 6SE etc.
EBMPAPST / Zhiel Abegg : Centrifugal Cooling fan (Use for ABB/SIEMENS inverters)
Mitsubishi / FANUC / Yaskawa / Panasonic / Oriental Motor: Servo Motor & Servo Drive