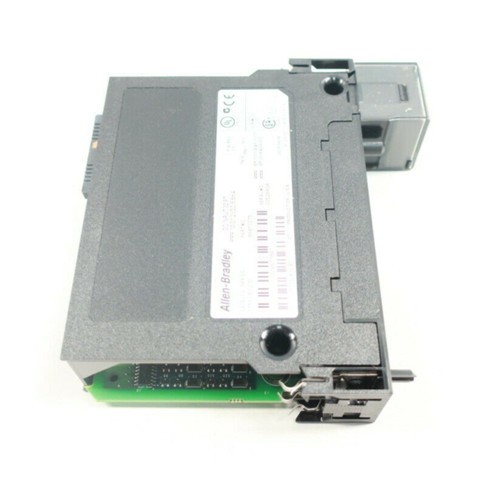 Allen Bradley ControlLogix Digital input module 1756-IB32 Digital I O Module 32 points
Allen Bradley ControlLogix Digital input module 1756-IB32 Digital I O Module 32 points
---
Description of Input Module 1756-IB32

The 1756-IB32 is a ControlLogix Discrete input module which operate at a voltage category of 10 to 31.2 VDC with a nominal voltage of 24VDC. This module has Thirty-Two (32) sinking input channels in Two (2) groups. This module is directly installed to a 1756 local or remote chassis.
The Allen-Bradley 1756-IB32 is a ControlLogix digital I/O module. Part of the ControlLogix system, this input module has 32 inputs available in 2 groups, with 16 points in each group. It is mounted to a ControlLogix chassis by using the required removable terminal block housing, or RTB, such as either the Allen-Bradley 1756-TBCH or 1756-TBS6H. This module, occupies a single slot of the ControlLogix Chassis and supplied with an open enclosure type. The 1756-IB32 module has an operating voltage range of 10 to 31.2 Volts DC and a nominal input voltage of 24 Volts DC. It has a voltage category of 12/24 Volts DC sink, a current draw of 120 mA at 5.1 Volts and 2 mA at 24 Volts, and a total backplane power rating of 0.66 W. The maximum power dissipation is 6.2 W at 60 degrees Celsius, while the thermal dissipation is 21.1 BTU/hour, also at 60 degrees Celsius.
This module is shipped with a Removable Terminal Block (RTB). This RTB enables modular replacement of a defective module an provides ease of wiring the signals. Compatible RTB for this module are 1756-TBCH 1756-TBS6H or a 36-terminal RTB.
ControlLogix Digital I/O Modules
Catalog Numbers 1756-IA8D, 1756-IA16, 1756-IA16I, 1756-IA32, 1756-IB16, 1756-IB16D, 1756-IB16I, 1756-IB16IF,
1756-IB32, 1756-IC16, 1756-IG16, 1756-IH16I, 1756-IM16I, 1756-IN16, 1756-IV16, 1756-IV32, 1756-OA8, 1756-OA8D,
1756-OA8E, 1756-OA16, 1756-OA16I, 1756-OB8, 1756-OB8EI, 1756-OB8I, 1756-OB16D, 1756-OB16E, 1756-OB16I,
1756-OB16IEF, 1756-OB16IEFS, 1756-OB16IS, 1756-OB32, 1756-OC8, 1756-OG16, 1756-OH8I, 1756-ON8, 1756-OV16E,
1756-OV32E, 1756-OW16I, 1756-OX8I
---
Technical Specifications - 1756-IB32
Attribute

1756-IB32

Outputs

32 (16 points/group)

Voltage category

12/24V DC source

Operating voltage range

10…31.2V DC

Output delay time(screw to backplane)
Off to On
On to Off

Hardware delay: 380 µs max + filter time
User-selectable filter time: 0 ms, 1 ms, or 2 ms
Hardware delay: 420 µs max + filter time
User-selectable filter time: 0 ms, 1 ms, 2 ms, 9 ms, or 18 ms

Current draw @ 5.1V

120 mA

Current draw @ 24V

2 mA

Total backplane power
0.66W

Power dissipation, max

6.2 W @ 60 °C (140 °F)

Thermal dissipation

21.1 BTU/hr @ 60 °C (140 °F)

Off-state leakage current per point, min

4.8 mA @ 10V DC

On-state voltage drop, max

5.5 mA @ 31.2V DC

---
1756 ControlLogix I/O Specifications
AC Digital Catalog Numbers


1756-IA8D, 1756-IA16, 1756-IA16K, 1756-IA16I, 1756-IA16IK, 1756-IA32, 1756-IA32K,

1756-IM16I, 1756-IM16IK, 1756-IN16, 1756-OA8, 1756-OA8D, 1756-OA8E, 1756-OA16,

1756-OA16K, 1756-OA16I, 1756-OA16IK, 1756-ON8

DC Digital Catalog Numbers

1756-IB16, 1756-IB16K, 1756-IB16D, 1756-IB16DK, 1756-IB16I, 1756-IB16IK, 1756-IB16IF,
1756-IB16IFK, 1756-IB16ISOE, 1756-IB16ISOEK, 1756-IB32, 1756-IB32K, 1756-IC16, 1756-IG16,
1756-IH16I, 1756-IH16ISOE, 1756-IV16, 1756-IV16K, 1756-IV32, 1756-IV32K,
1756-OB8, 1756-OB8EI, 1756-OB8I, 1756-OB16D, 1756-OB16DK, 1756-OB16E, 1756-OB16EK,
1756-OB16I, 1756-OB16IEF, 1756-OB16IEFK, 1756-OB16IEFS, 1756-OB16IS, 1756-OB32,
1756-OB32K, 1756-OC8, 1756-OG16, 1756-OH8I, 1756-OV16E, 1756-OV32E

Safety Catalog Numbers


1756-IB16S, 1756-OBV8S




Contact Catalog Numbers




1756-OW16I, 1756-OX8I



Analog Catalog Numbers

1756-IF6CIS, 1756-IF6I, 1756-IF8, 1756-IF8K, 1756-IF8I, 1756-IF8IK, 1756-IF16, 1756-IF16K,
1756-IF4FXOF2F, 1756-IF4FXOF2FK, 1756-IR6I, 1756-IRT8I, 1756-IRT8IK, 1756-IR12, 1756-IR12K,
1756-IT6I, 1756-IT6I2, 1756-IT16, 1756-IT16K, 1756-OF4, 1756-OF4K, 1756-OF6CI, 1756-OF6VI,
1756-OF8, 1756-OF8K, 1756-OF8I, 1756-OF8IK

HART Interface Catalog Numbers

1756-IF8H, 1756-IF8HK, 1756-IF8IH, 1756-IF8IHK, 1756-IF16H, 1756-IF16HK, 1756-IF16IH,
1756-IF16IHK, 1756-OF8H, 1756-OF8HK, 1756-OF8IH, 1756-OF8IHK

Specialty Catalog Numbers

1756-CFM, 1756-CMS1B1, 1756-CMS1C1, 1756-HSC, 1756-LSC8XIB8I, 1756-LSC8XIB8IK, 1756-PLS

---
Wiring Diagrams of ControlLogix DC (10...31.2V) input module 1756-IB32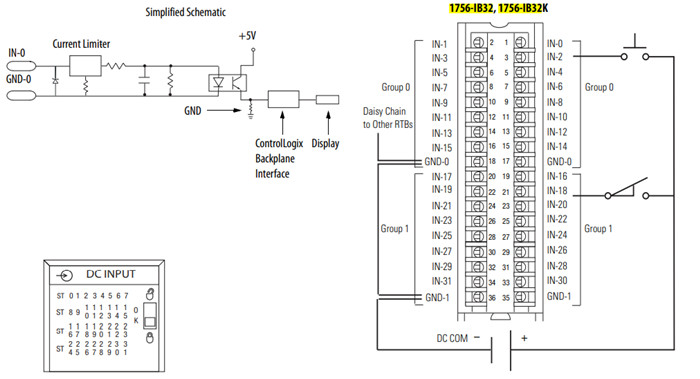 ---
Types of 1756 Removable Terminal Blocks
Attribute

1756-TBNH


1756-TBSH




1756-TBCH




1756-TBS6H




1756-TBE




Description




20-position NEMA screw-clamp removable block




20-pin spring-clamp removable terminal block with standard housing




36-pin cage-clamp removable terminal block with standard housing




36-pin spring-clamp removable terminal block with standard housing




Extended depth terminal block housing




Screw torque



0.8…1 N.m
7…9 lb.in

0.8…1 N.m
7…9 lb.in

0.4 N.m
4.4 lb.in

0.4 N.m
4.4 lb.in

-
---
The list of Analog Input Modules with Removable Terminal Block
Models of Analog Input Module
Models of Removable Terminal Block
1756-IF6CIS

1756-TBNH
1756-TBSH

1756-IF6I


1756-TBNH




1756-TBSH




1756-IF8H




1756-TBCH




1756-TBS6H




1756-IF8




1756-TBCH




1756-TBS6H




1756-IF8I




1756-TBCH




1756-TBS6H




1756-IF8IH




1756-T

BCH




1756-TBS6H




1756-IF16




1756-TBCH




1756-TBS6H




1756-IF16H




1756-TBCH




1756-TBS6H



---
Analog RTD and Thermocouple Modules
Models of Analog Module

Models of Removable Terminal Block

1756-IR6I

1756-TBNH
1756-TBSH

1756-IRT8I

1756-TBCH
1756-TBS6H

1756-IT6I

1756-TBNH
1756-TBSH

1756-IT6I2

1756-TBNH
1756-TBSH

---
Analog Output Modules
Models of

Analog Output Modules

Models of Removable Terminal Block




1756-OF4




1756-TBNH




1756-TBSH




1756-OF6CI




1756-TBNH




1756-TBSH




1756-OF6VI




1756-TBNH




1756-TBSH




1756-OF8




1756-TBNH




1756-TBSH




1756-OF8H




1756-TBNH




1756-TBSH




1756-OF8I




1756-TBCH




1756-TBS6H




1756-OF8IH




1756-TBCH




1756-TBS6H



---
Analog Combination Input and Output Module
Models of

Analog Combination Input and Output Module




Models of Removable Terminal Block




1756-IF4FXOF2F




1756-TBCH




1756-TBS6H



---
Specialty I/O Modules
Models of

Specialty I/O Modules

Models of Removable Terminal Block



1756-CFM


1756-TBNH




1756-TBSH




1756-HSC




1756-TBCH




1756-TBS6H




1756-LSC8XIB8I




1756-TBCH

1756-TBS6H

1756-PLS




Requires 3 RTBs

: 1756-TBNH or 1756-TBSH



---
Our advantage products:

AB: Input / Output Module / Touch Screen
ABB: Inverter/ I/O Module
GE: IC200/ 693 / 694 etc. series
SIEMENS: 6ES7 / 6EP / 6AV / 6SE etc.
EBMPAPST / Zhiel Abegg : Centrifugal Cooling fan (Use for ABB/SIEMENS inverters)
Mitsubishi / FANUC / Yaskawa / Panasonic / Oriental Motor: Servo Motor & Servo Drive